Manipur, the 'Land of Jewels', is a significant constituent of the seven-sister states of the Indian Union and is renowned for its vibrant colour, culture, natural beauty and traditional forms of art and crafts. As described by Lord Irwin, Manipur, or the 'Switzerland of India', is a hub of artistic excellence and aesthetic appeal. This state has carved a niche for itself regarding traditional forms of art and crafts. One such craft is the art of Basket weaving or Basketry.
Basket weaving or basketry is a unique ancient craft as it allows the creation of sculptural objects. Traditionally baskets were woven by hand from natural fibres, similar to the weaving of textiles. Various natural materials have been used to create baskets, for example, bark, willow rods, grass, leaves, etc. Baskets are part of the heritage of many indigenous people.
Handicrafts represent the ethnic, environmental and historical characteristics of the region and culture. Due to its aesthetic and artistic importance, handicrafts in Manipur have a unique position among the numerous crafts of the area. Due to the abundance of raw materials and demand from domestic and foreign customers, kauna art is popular among crafts.
The North-Eastern state of Manipur in India is famed for Kauna Grass, a commercially viable crop increasingly becoming exportable. It is a weed cultivated in Imphal's wetlands, often alongside rice. In the long history of the Meiteis living in Manipur, this material has been used to make hats worn in agricultural fields, baskets, hampers and other valuable items.
Kauna products were traditionally made for local utility purposes. The products made from kauna grass are simple and minimalist in design, with a touch of colour if they were utilised for ceremonial gifting. Initially, the most popular products amongst Manipuri households were mats, mattresses and cushions, which used to serve as furniture in a room. The Manipuri tradition involves sitting on the floor in the traditional cross-legged posture while socialising, working and eating.
Basket weaving is a craft where there is no gender inequality. The women are more active and prominent in this field, especially if the men have work outside the home, but both sexes participate in basket weaving as they wish. Most weavers are naturally creative and unskilled women who wish to generate income for their family quickly learn how to make basic baskets with malleable grass.
The local population has always used Kauna grass to weave floor mats, mattresses, cushions and baskets for daily use. They come in handy to carry vegetables and other agricultural produce and are readily made by many families who are today seen as adept basket weavers.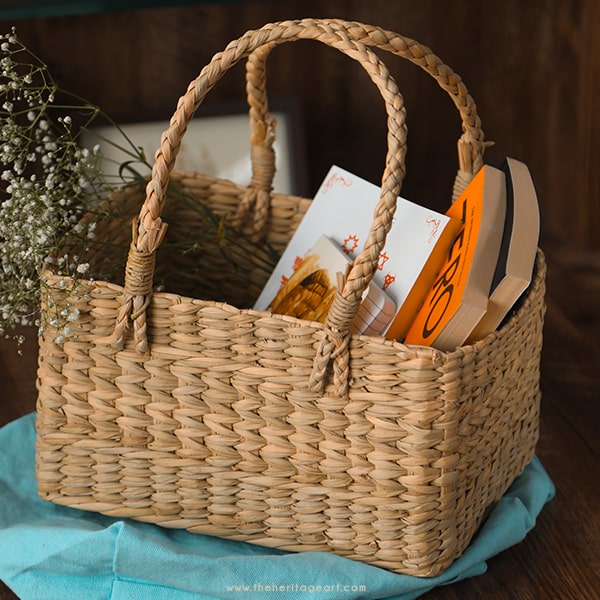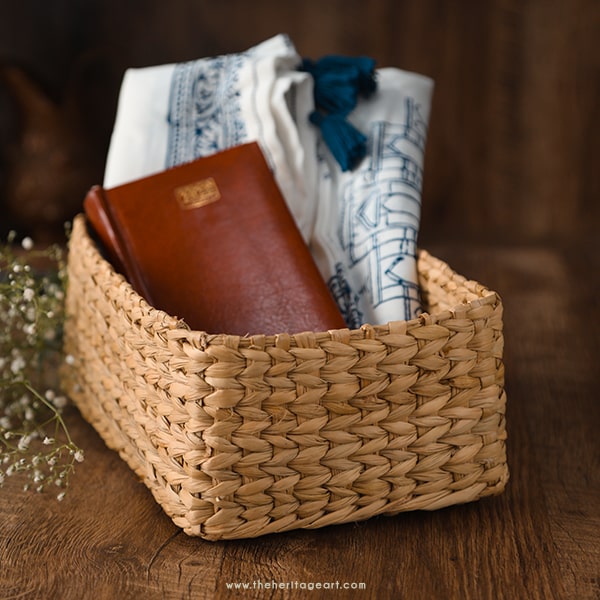 Weaving Kauna Grass into Baskets and Mats
At its core, the process of making kauna baskets and mats begins with the farmers who cultivate grass along with their paddy cultivation. This grass grows to a height of around 6 feet or more and is cut when fully grown. The grass is then laid out under the sun to dry them completely. Utmost care is taken to completely dry the soft inner portion of the stem to avoid moulds once the weaving is completed. The grass is then either kept in its original coloured or dyed using natural colours to highlight the patterns and weaves of the products.
The grass is first woven into a flat circular or oval shape as the base of the object, after which spokes of grass directed upwards form the 'warp', which is then interwoven with the portion that can be called the weft. While weaving, simple tools are used to tease a strand into place according to the design or pattern. Mattresses and mats are woven flat without moulds and are secured with jute string in auspiciously approved odd numbers.
The village carpenters make plywood or tin moulds to shape the object woven around them. These are in a variety of forms as ordered by the weaver. This enables the standardisation of sizes for bulk production.
Everyday workplaces mostly have 4-8 women working together. They are occasionally trained by master weavers who are primarily male. From the first day of their training, the weavers learn to weave tightly so that the products are firm, sturdy, and not damaged easily.
Weaving is a collective activity in a rural craftsperson's home. From looking after each other's children to partaking in household activities, the men and women of the village gather together to complete the work.
The Traditional Practice of Basket Weaving
The craft of basket weaving developed out of need and requirement. In a Manipuri household, one can spot different sizes and varieties of baskets. From generous size tote bags with a bamboo handle for grocery shopping to carrying daily agricultural produce up and down the hill, the basket designs are sturdy, delicate and highly sophisticated.
Looser woven patterns are used for baskets that carry sturdy items that require fresh air. These baskets are generally used by farming communities and families during harvesting crops and storing them for a short duration. A laundry basket made from kauna grass has a firmly closed weave at its base with an open upper weave. This unique and intricate weaving pattern keeps the clothes fresh even inside the laundry basket.
The kauna grass hat is the most prominent fashion article adorned by the males of the Manipuri community. From walking down the road for a grocery trip to working in the fields under the sun, the grass hat is a utility-driven product now a fashion statement across India and worldwide.
The weavers started experimenting with shapes and sizes. The implementation of diversification of design, learning from designers at training workshops and realising the potential of innovation and their weaving skills and talents helped establish a steady source of income for the community. The kauna grass table mats are yet another innovative weave which started developing as Manipur's weaver community got exposure and began interacting with city customers with a more sophisticated taste.
Embellishments like glitter, leather accessories or embroidery are now added to make the bags and baskets more attractive for sale to urban Indian and foreign customers. Adept weavers can weave at great speed, and for some portions like handles, straps or clasps, both hands and toes come into service. Weaver communities across India find their toes as useful as their hands when weaving tight coils and patterns.
The prominent weaver communities have established strong links with farmers cultivating kauna grass. Local entrepreneurs reach out to these communities to send samples to retailers and elsewhere in India and abroad. Purchasing products from the weaver communities help support and sustain the ecosystem, from cultivation to designing moulds to weaving to product curation.
From weaving wall clocks to slippers for daily use, the community has come a long way in design and innovation. They are no longer the community of weavers who create products for their own community but are now a part of craft clusters, preserving their ancient craft of weaving. These communities are on the path of spreading awareness about kauna weaving and adding a touch of aesthetic decor to every home in India and worldwide.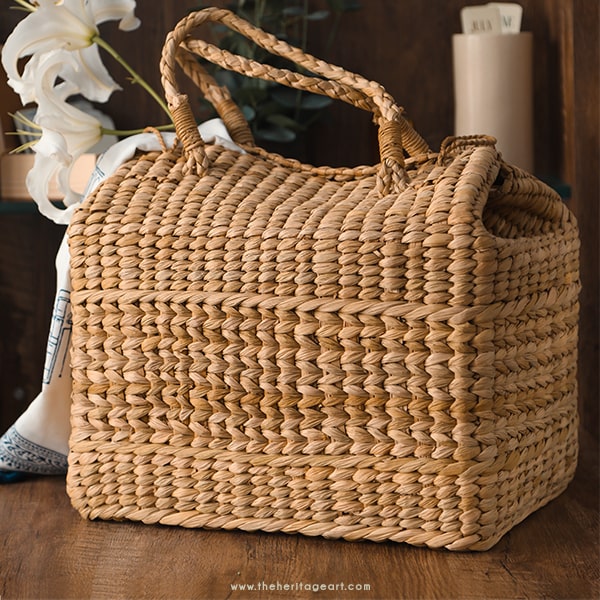 With Heritage Art, embark on a journey towards sustainability and empowering artisans. The Heritage Art works directly with the artisans of Manipur to source handcrafted baskets and bags. Your kind patronage will add a smile to their face and go a long way!